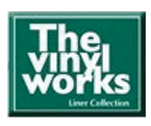 The Vinyl Works: Interior Pool Finishes.
An Exact Fit for Your Pool. A Perfect Match For Your Style.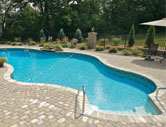 One of the most important features of your pool is its interior surface, which is why we offer finishes that provide upscale beauty and peace of mind for years to come.

Our interior pool finishes are soft to the touch, resistant to ultraviolet rays and bacterial growth, and custom-manufactured for an exact fit. They are also far easier to clean than other surfaces, meaning less time working on your pool, and more time swimming in it!
---
Water Color Guide
Our new pool interiors turn your backyard into waterfront property. Enjoy the soothing seascapes of your choice, from island light blue to dramatic navy hues.
Caribbean

A light, aqua island blue turns your pool into a tropical beach paradise. Here, the vacation never ends and you don't need plane tickets, passports, or hotel reservations to take full advantage of this never-ending resort experience!
Mediterranean

Temperate medium-blue shades transports you to lands and antiquities half a world away. Immerse yourself in a sea dotted with islands and full of mystery, and rejoice in the knowledge that you have a lifetime to discover each and every one!
Caspian

A dark sapphire hue whisks away to the ocean's deepest waters, inviting you to explore all of the riches below its surface. Imagine sunken ships, lost treasures, undiscovered worlds. Every swim is a new call to adventure!
---
Brands and Patterns